Ray's Chevy Restoration Site
Photos and History of Dad's 1966 Chevy C10
Page 4 of 4 ... August 2004 - present
327 engine and 3-speed overdrive transmission swap
---
August 2004 - We had been searching for a 327 to replace the old 283 that's currently in the truck. However, dad managed to find a 409 that we'll be rebuilding and eventually swapping into his 63 Impala. Once that's done, the 327 from the Impala will be going into the 66.
---
May 2008 - We pulled the 327 out of the Impala and put it on a spare engine stand. It's a 275HP 327 (suffix code "HCR") originally from a 1966 Chevy car. Dad had it rebuilt before puting it in the 63 so our plan is to simply swap on an intake manifold and Rochester 4G carb that we pulled from a 67 pickup 327 years ago. I believe it's the same setup as was used on the 66 pickup 327's. Then we'll clean and re-paint the engine green. Yes, green. According to my research, factory engine colors for 1966 Chevy 10-30 C/K Series trucks are:
| Engine Size | Color Code |
| --- | --- |
| 250 L6 | Blue |
| 292 L6 | Green |
| 283 V8 | Gray |
| 327 V8 | Green* |
* These color listings come mostly from page 48 of the 1966 Chevy Truck 10-30 Series Owner's Manual. However, this manual lists the 327 as gray, which according to this thread on 67-72chevytrucks.com is a misprint. Page 6-53 of the 1963 Chevrolet Truck Shop Manual lists the 327 identifying color as green (for medium duty trucks ... the 327 wasn't available in the 10-30 series in 63). There's no mention of any color change in the 1966 Chevrolet Truck Shop Manual Supplement. And finally, I've seen a few factory green (under all the oily dirt) 327's in some local medium duty farm trucks.
---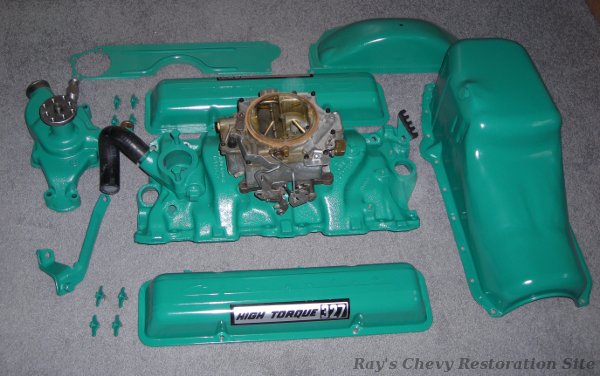 Shown here are several of the engine parts that I've already cleaned and painted. I believe the thermostat bypass adapter on the intake was somewhat of a unique item on these 60's truck 327's. The pick-up truck configuration used a single hose going to the top of the water pump, while the medium duty truck setup used two hoses.
The longblock assembly, timing cover, and harmonic damper are still on the to-do list to get painted.
---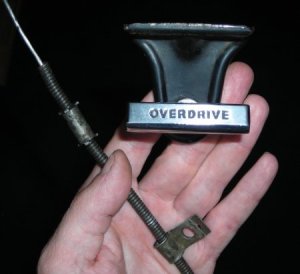 July 2011 - The 327 is still waiting on the engine stand (too many projects and not enough time). Dad recently bought a Saginaw SM-326 3-speed transmission with the Borg Warner overdrive. We bench tested it and found that it works smoothly through all the gears and the OD kicks in when power is applied to the solenoid. We also pulled the side cover and it looks like new inside.
---
August 2011 - Since this transmission didn't need any internal repairs, we put the side cover back on with a new gasket and replaced the input & output shaft seals. Then I cleaned it up with some brake parts cleaner and used a wire wheel on a drill to remove as much surface rust as possible. Next, I gave it a coat of Rust-Oleum rusty metal primer followed by a couple coats of Plasti-Kote cast gray paint. I also disassembled the solenoid, cleaned it all up, and painted the outside with some silver paint. Finally, we filled the trans with some new SAE 90 GL-1 gear oil so now it's ready to go in the truck.
In order to change from the existing SM-318 3-speed transmission to this SM-326, it looks like we'll have to change the following parts:
Driveshaft (looks like it needs to be shortened roughly 5" since the Saginaw transmissions (both regular & overdrive versions) are longer)
Slip yoke (SM-318 has 16 spline output shaft while the SM-326 has a 27 spline shaft)
Column shift linkage (looks like the 1st/rev rod might need to be modified since that lever is farther back on the Saginaw trans)
Speedometer cable (looks like it might need to be longer since the hookup point is farther back on the Saginaw trans as well)
Speedometer gear (will likely need to be changed to calibrate the speedometer)
Finding all of the factory correct electrical parts to hook up the overdrive portion of this trans would be rather time consuming and expensive. So instead, we plan to do a relatively stock looking install using the following:
Original overdrive lockout cable w/T-handle (shown above)
Relay to power the overdrive solenoid (I think an 80's GM AC blower relay will work and it has a metal cover that looks somewhat like the original GM overdrive relays)
Wiring harness (I'll put together a home-made harness using a wiring diagram I found in a factory service manual and cover it with OE style harness tape and cloth loom)
We haven't decided whether or not to use a kickdown switch yet. If we do, I think a 70's/80's GM brake light switch from a vehicle with cruise control will work since they have both N.O. and N.C. contacts like the original kickdown switches.
---
Return to Tom's 66 Truck Page
Return to Ray's Chevy Restoration Site