Page 6 of 6 ... September 2017 - present
September 2017 - June 2019 -- On Hold
The 66 has been on hold while we work on some other projects.
July 2019 -- Re-Painting the Header Panel and Some Other Miscellaneous Parts
Finally getting back to work on the 66 again. The black paint on the header panel behind the grille hand been re-sprayed a few times over the years without good prep work so it was peeling and flaking off in some spots. The white border that surrounds the grille area was in need of some freshening up too. So I sanded this whole section down to bare metal, sprayed it with some epoxy primer, and re-painted.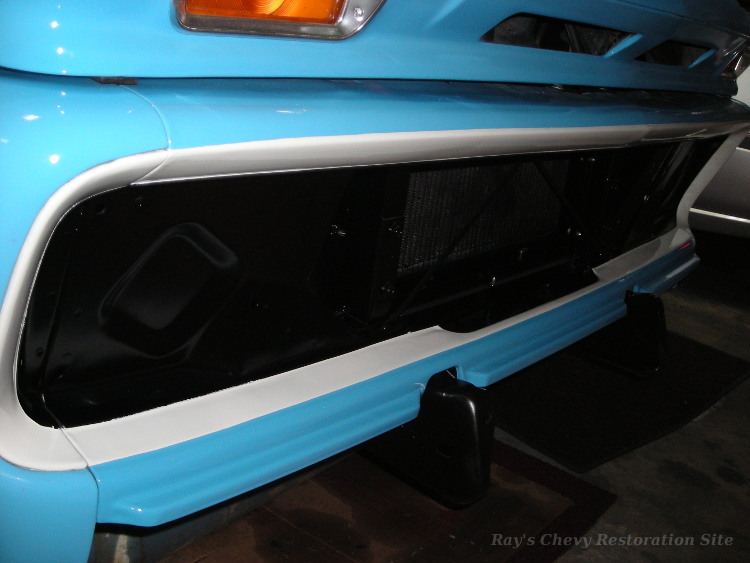 A while back, I bought a good used original gas cap on Ebay. I sandblasted it, sprayed it with some epoxy primer, and painted it to match the truck.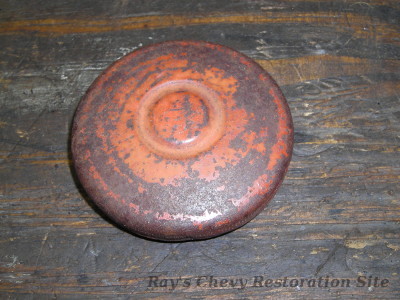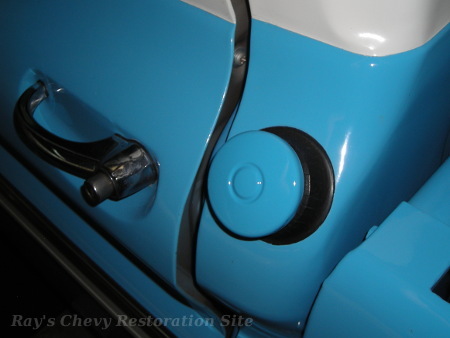 As can be seen in the above photo, the rubber grommet around the gas filler neck has some cracks and needs to be replaced again. Yes, again ... We've already replaced this grommet two or three times but the typical aftermarket ones from most vendors only seem to last a few years before they start cracking. We were considering replacing it with an okay used original GM one that only had some fine cracks. But then I remembered reading a post by Wes from Classic Heartbeat on the 67-72chevytrucks.com site about them working on some high quality reproductions made of good rubber. So I ordered one from them.
And while I had some paint mixed up to spray the gas cap, I took the opportunity to re-spray the filler panels that go between the body and the rear bumper. The rear bumper (and these panels) came off a parts truck about 20 years ago. Back then, I had painted them black, but have since learned that they were originally painted to match the truck's body color.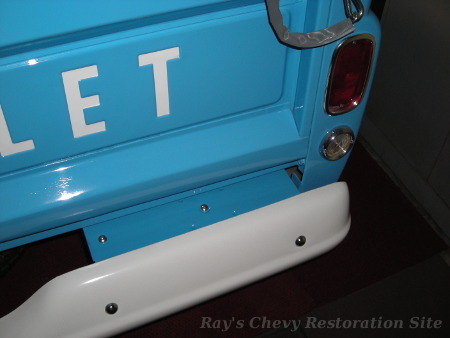 The original 5⁄16"-18 Phillips head machine screws used to attach these filler panels to the bumper brackets were still in okay condition but I replaced them with some stainless steel machine screws with the same style head. I also cleaned and polished up some good used original stainless capped bumper bolts and swapped them in place of the white painted carriage bolts I had used earlier. From what I have seen, GM originally used these high dome stainless capped bolts on all truck bumpers (both painted & chrome).
---
---
© 1998 - 2020 Raymond McAvoy. All Rights Reserved.