Ray's Chevy Restoration Site
Photos and History of my 1974 Nova
Page 2 of 2 ... Summer 1996 - present
Changes and Improvements
---
Summer 1996 - I replaced the sagging rear springs with a new set of 5-leaf springs from Classic Industries.
Fall 1996 - I purchased a rusty 73 Nova 2-door parts car that still had a decent looking blue bench seat interior. I took the seats to an upholstery shop and had them re-upholstered. I had them keep the original configuration with cloth seating areas and vinyl sides. The original style cloth was no longer available and I didn't really care for it anyway so I just picked out some that I liked from their sample books. The door panels and other trim pieces from the 73 donor car were a bit faded so I gave them a good cleaning and sprayed them with some Plasti-Kote vinyl dye.
Spring 1997 - Here is the new blue interior in my 74. The color change required re-painting the metal part of the dash and narrow section of metal that runs between the bottom of the rear window and package tray.
---
Spring 1998 - I decided to make the car into somewhat of an SS clone by making a few styling changes:
Swapped the original steering wheel for a 4-spoke sport steering wheel with SS horn cap.
Painted the grille black with silver stripes on the upper and lower horizontal bars.
Replaced the Chevy bowtie grille emblem with an SS emblem.
Replaced the Nova fender and trunk emblems with SS emblems (technically correct for a 73 but I like the looks of them better than the 74 "Nova SS" decals)
Added bullet-style sport mirrors (I painted them body color even though black is technically correct for a 74 SS)
Replaced the regular Rally II wheel center caps with SS style caps.
---
Fall 1998 - Even with new shoes, the old manual drum brakes left a lot to be desired so I swapped them out for new power front disc brakes. I also replaced the old points distributor with an HEI. The details for both swaps can be found on my technical information page.
While I was doing the HEI swap, I also swapped out the 2bbl intake manifold and carburetor with a 4bbl intake and Quadrajet carburetor. I used a 72 intake manifold to eliminate the EGR valve and associated vacuum lines. This reduced some of the clutter and gave the engine a cleaner but still stock appearing look. The carburetor swap required the use of a different air cleaner housing and it also needed to have a notch to clear the HEI. After searching through a few junk yards, I found an early 80's air cleaner that fit the bill. Aside from having an oval shaped snorkel it appears very similar to the original.
---
Summer 1998 - I installed a new 2 1/4" mandrel bent exhaust system and a re-chromed rear bumper from Bumper Boyz. Later in the spring of 2000 I replaced the front bumper (also from Bumper Boyz). When they re-chromed the front bumper, they welded up the bumper guard mounting holes. Oh well, I didn't really care for those large rubber bumper guards anyway.
---
November 2000 - Now that I've pretty much completed the restoration of this car, I bought a '77 Nova to use as a daily driver.
---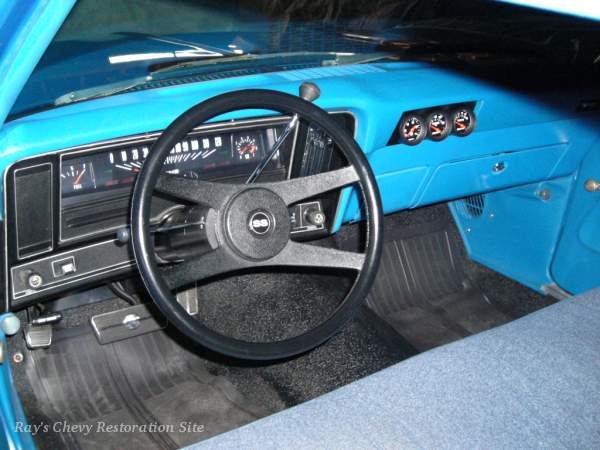 May 2006 - I decided to replace the old Sun tachometer that I used to have mounted on the steering column with one of ShiftWorks new in-dash tachometers. They mount in place of the clock (or clock delete plate) and have a factory styled appearance.
I also decided to update the aftermarket gauge cluster I had hanging under the dash with some new AutoMeter gauges. I chose their Z-series gauges since they are a close match to the original instrument cluster with thier red/orange pointers and white numbering on black faces. Rather than leave them hanging under the dash, I purchased a good used dash pad from a car that had factory AC and made a panel to mount them in the opening where the center AC vent was located. I first tried some plastic angle rings that tilt the gauges about 15 degrees but they still weren't enough to compensate for the tilt of the dash face and angle the gauges off towards the driver side for easier viewing. So I cut my own angle rings from some 2 1/4" OD exhaust pipe to tilt the gauges about 35 degrees.
Years ago I added an old Pioneer AM/FM/cassette player but never did really listen to it that much. So when I put the instrument panel back in after this tachometer/gauge upgrade, I decided to put the original AM radio back in place. I'm sure glad I didn't have to cut the radio opening to fit that old Pioneer.
---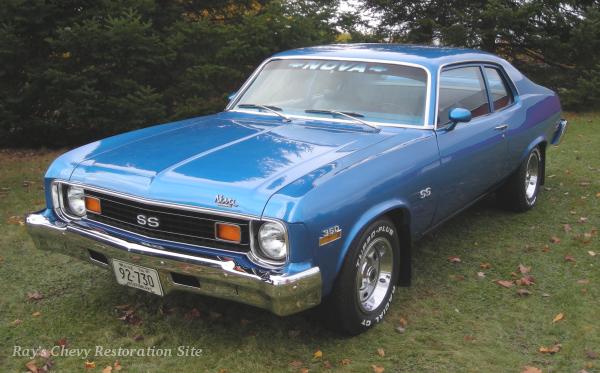 October 2007
---
Return to my 74 Nova Page
Return to Ray's Chevy Restoration Site